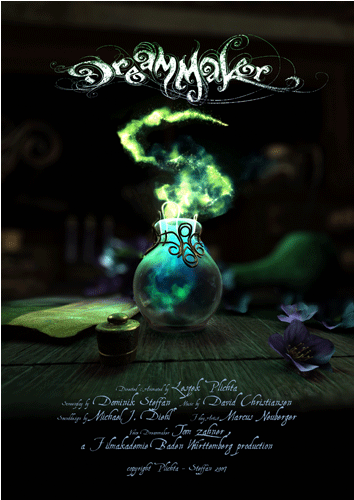 4 Years in the making!
One guy on the modelling, texturing, and animation! 11 minutes long!!!!! Fanteastic work - well done. It has such a good fresh style too, it reminds me a little of a young
Tyson Ibele
and his sole piece (which won the CG society comp a few years back)
Hemlock
The aniamtion style and visual is not compromised by the timeframe or trending styles!
You will love it.
Credits
Director/Animation/Design/Modeling/Lighting: Leszek Plichta
Screenplay: Dominik Steffan/ Leszek Plichta
MusicComposer: David Christiansen
Orchestra: Filmorchestra Babelsberg
Sounddesign: Michael J. Diehl
Foley Artist: Marcus Neuberger
Voice "Dreammaker": Tom Zahner