Ok, so its time to get a new computer again, you have spec'd the beast up and now you are waiting for delivery, and the age old choice comes to mind at that moment.
Do you stick with old faithful, or buy a new one to complement your new machine?
I have always been a 'stick' guy myself, i have bought machine after machine year after year and kept the same input devices for several generations before opting for another, siting:
"I know this one works, its accurate, reliable, and free" – so why wouldn't i?
On the occasions that I have invested in a new companion to my computer, i have been through the rigmarole of choices:
Just get a mouse? and what should i buy? A cheap generic, or a branded, established make?
Well, because its me i have always tended to go for the middle/low selection, a cheap Microsoft or Logitech mouse - "its fine, it has always worked perfectly well before."
Well, this time I fancy something a little different, i have been looking into the mirriad of options and choices out there, and it stands to reason actually! I have been spending monies after monies getting the fastest and most powerful components i can afford for my computer and missing the one element that controls the whole process!
So, where do you go with this then?
Wireless
Wired
I have opted for the wireless Logitech MX revolution. This mouse has had some great reviews over in the past with the MX range being quoted as "the best and most functional devices of the year!"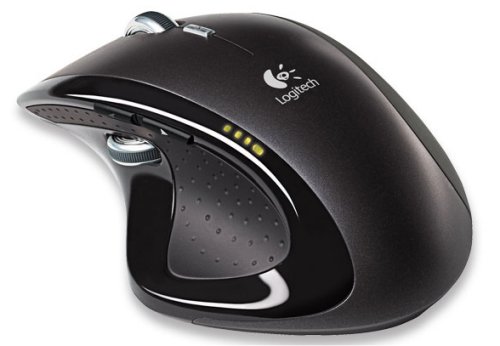 So, i have choosen my £50+ mouse and nuts to the keyboard for now.
What does my mouse actually do?
Well, here 's the spec:
The Logitech MX revolution wireless laser mouse allows you to fly through long documents with the MicroGear™ Precision scroll wheel. The Logitech MX revolution mouse moves with ease between applications and documents with a flip of the thumb wheel. Enjoy one-click access to your favorite search engine and Logitech MX revolution mouse instantly search your computer, network, and across the Web.
Experience extreme precision and perfect tracking on nearly any surface with the Logitech MX revolution. The Logitech MX Revolution Wireless Laser mouse has an ergonomic grip and deep-sculpted thumb support allow to use the mouse in the most natural position.
Additional features of the Logitech MX Mouse:
• Smart Scrolling: Automatically switch between hyper-fast or precision click-to-click scrolling modes to match the task at hand.
• Rechargeable Li-Ion: End battery worries forever. Stay on top of your power supply with a 4-stage battery level indicator on Logitech's MX mouse.
• Extreme Wireless: Experience bulletproof wireless freedom with the Logitech MX revolution, it's robust 2.4 GHz Digital Cordless, plus the extra performance of full-speed USB.
Cant wait!
Other options!
I was interested to see the other alternatives out there at the moment:
Check this one out - The BRAIN Mouse!:
Its a OCZ NIA Neural Impulse Actuator input device, using your facial movements and neural activity as the input device! Interesting, if a little Star Trek esq!
I did for a minute consider this, here a review:
http://www.overclock3d.net/reviews.php?/input_devices/ocz_neural_impulse_actuator_nia_-_the_log/1
probably not though, eh?
Should have bought this i guess!
Yep thats right it an eighteen button mouse, with an anolog controller in the side (like the control of a PS3), apparently the mouse is set up to work with:
WoW, 3D Studio Max, Firefox, and the OpenOffice suite.
I'll put my order in now then!!!